Description: The 5" x 7 1/4" N C Wyeth 1911 Civil War Color Print THE LOVERS shown below is in excellent condition - no holes, tears, stains, etc. It was accomplished by Wyeth for the 1911... read more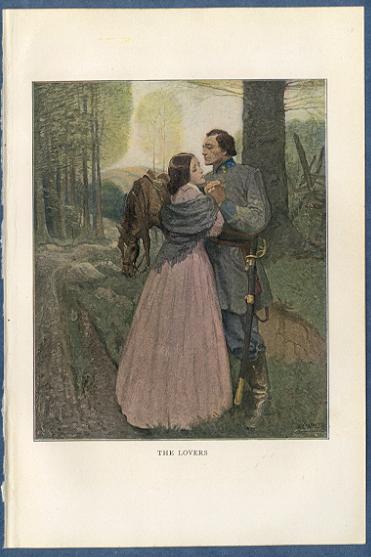 ---
Details:

The 5" x 7 1/4" N C Wyeth 1911 Civil War Color Print THE LOVERS shown below is in excellent condition - no holes, tears, stains, etc. It was accomplished by Wyeth for the 1911 publication of the Civil War novel THE LONG ROLL. The print carries Wyeth's signature in the lower right corner (should be visible on your monitor). Plenty of margin for matting and/or framing and a nice item to add to a Wyeth or Civil War collection.

Please email me at info@kruegerbooks.com if you have any questions.
---
Copyright © 1995 - 2001, Planet Internet Solutions, Inc., Tucson, Arizona U.S.A. All Rights Reserved.