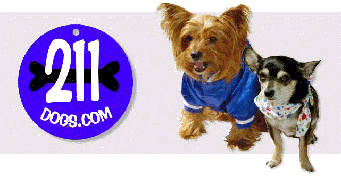 About Us
211dogs.com makes pampering your faithful friend easy and fun! We know how to make your dog happy. We spend hours each week researching the most current information to help our dogs (Spike and Tito) and your dog stay happy and healthy. Our mission is to be your quality source for pet supplies and accessories at affordable prices. You will find an ever-increasing selection of clothing, accessories, toys and gifts for you pet -- all in one location.
From fancy to functional, but always fun, our huge selection of quality products provide dog lovers with a wide range of choices that are always affordable. We offer products from industry leaders, as well as custom made items for that special canine. Don't take our word for it, read our customers' testimonials and browse or Photo Gallery!
Looking for something special? Our Pooche' D designer line is proudly made in the USA and lovingly crafted from the highest quality materials available. Our seamstress takes pride in the fact that she has been sewing custom orders for 40+ years. If you are looking for a one-of-a-kind or limited supply item, check out our Pooche' D designer line.
You'll also find a wide range of dog accessories and gear, including car blankets, comforters, snuggle bags, seasonal toys and clothing, T-shirts, sweatshirts, jackets, coats, hats, costumes, bathrobes, plush toys, vinyl toys, special occasion (Birthday) packages, pet lover gifts, and dishes. We are constantly looking for new and unique products for you and your pet, so check back frequently.
We welcome special orders – and we can personalize most items.
Our goal is to provide you with excellent customer service. We personally respond to your emails, answer your questions, and pack and ship your items quickly. We look forward to serving you.